Urban Art by Angela Wakefield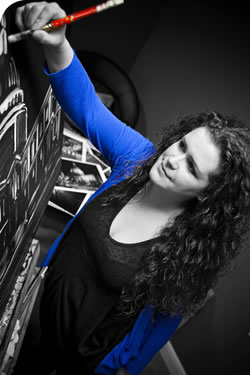 Angela Wakefield was born in 1978 in Accrington, Lancashire. With a strong instinctive flair for drawing and painting since childhood, Angela pursued her career as a professional artist back in 1999 and has been painting seriously ever since.
Angela's originals are now being sought after by collectors from throughout the UK, Europe and USA. Angela has used this success to provide opportunities for other aspiring artists. It is this character and integrity that has helped earn the respect she now enjoys from her contemporaries and industry professionals alike.
Angela Wakefield is a celebrated urban artist, inspired by the vast array of luminous man-made colours that transform our towns and cities from bleak and depressing spaces by day to vibrant and colourful fairgrounds by night.
With industry professionals and collectors paying an avid interest, there is an acceptance that her artwork represents a sound financial investment. She is a young artist with a growing national reputation, producing work that resonates with a broad range of people, offering enduring representations of contemporary landscapes.
"Angela Wakefield is a rising star of British art; her work, mainly urban scenes of the North of England, is receiving acclaimed attention whilst exploring a new reality essence in our counterculture… I was struck by the urbanized genre, the scattering of light in form, and the sheer reality of scene. I have not seen such arrangement in art since viewing paintings by Edward Hopper."
Ian Welland, Writer & Art Historian