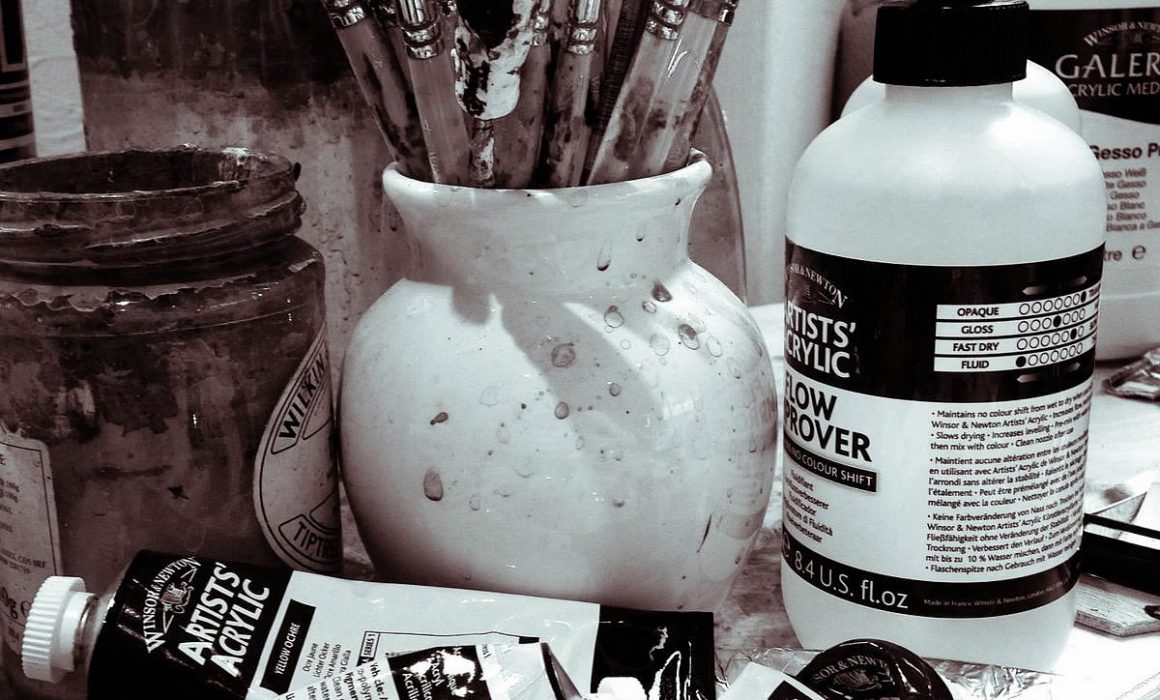 Concept for Living Magazine
"… as Angela's reputation as the rising star of British Art spreads, the time is coming for her to say goodbye to many more pieces from her collection"
Rebecca Drake, Editor of 'Concept for Living'

Nestled amidst the beautiful Lancashire countryside in the picturesque village of Ribchester sits the contemporary art gallery Ascot Studios. Opened 18 months ago by vivacious Lancashire lass Angela Wakefield, the studio exhibits contemporary art by a variety of up-and-coming artists, including an assortment of work by Angela herself.
Diminutive in proportion, with sparkling eyes and a personality to match, Angela exudes a vibrant enthusiasm for her art and gallery alike. Both the gallery and accompanying studio, where Angela creates a lot of her work, are housed in Bee Mill, a converted textile mill which dates back to 1888. Retaining a variety of its original features and flooded with natural light, the mill is the ideal environment to showcase Angela's unique work; a variety of urban landscapes, inspired by everyday life in the North West.
Angela and her partner Phil show me around the gallery. It's a beautiful contemporary space. The urban look and feel of the interior juxtaposed with the quaint riverside village location of the mill; a space to contemplate and create. An enthusiastic artist since childhood, Angela tells me she began drawing as soon as she could hold a pencil. Raised in Chaigley near Accrington, she completed her fine art degree at UCLAN in 2002. She then spent the following 4 years pursuing her ultimate dream of owning her own gallery, whilst, of course, developing her own artistic career too.
Passionate about the North and also other northern artists, Angela opened a studio next to her gallery to give other up-and-coming artists a place to work and be inspired.
"It's not just about me," she explained; "It's about the North and northern artists. Why should we have to leave the North to make it? We draw inspiration from each other. Sometimes there are five or six of us working here at the same time. I love the buzz. The creative banter. Hearing paintbrushes against canvas."
Angela has found inspiration for much of her work in scenes that many of us would perceive as mundane. Her critically acclaimed collection Urban Landscapes, which includes pieces such as 'Chip Shop, Nuttal Street, Accrington', 'CIS Solar Tower Manchester' and 'Winter Rush Hour', exude movement, colour and light. Angela explained to me that she is fascinated by cityscapes at nightfall : "I am inspired by the vast array of luminous man-made colours that transform our towns and cities from bleak and depressing spaces by day, to vibrant and colourful fairgrounds by night."
Respected writer and art historian Ian McClurg- Welland recently commented:
"Angela Wakefield's art is now attracting the attention of private collectors and galleries. The approachability and affordability of her art is refreshing against the backdrop of the industry's perception. The fascinating appeal of her urbanised utopias is reflecting a change in attitudes further afield. Her work is cutting edge, unique in execution, and without doubt breaking through."
A variety of pieces from Angela's Urban Landscapes series are currently being exhibited at Ascot Studios. The pieces are acrylic on canvas and range in size from 8" square to 4' square. Angela tells me how the series evolved:
"The Urban Landscapes are my main passion. I start by taking a series of photographs. Sometimes I can take up to a thousand photos, but I will choose only one, which I know will work as a painting. Mostly I will have an idea of exactly how I want my work to end up and I will work to that end. I paint when I feel inspired which can be any time of the day or night, whenever it feels right."
Even to my untrained eye, each of Angela's Urban Landscapes exhibits emotion and intensity. The energy and vivacity which bring each piece to life are a reflection of Angela's vibrant and passionate personality. Angela tells me that opening the gallery is her biggest career landmark to date. She explains that starting out as a young artist, it is difficult to know where to begin:
"I didn't know where to go to make my dream of becoming an artist and owning a gallery a reality. I did a business course, which gave me confidence and helped me with the day-to-day basics of running my own business. Places for new artists to exhibit are few and far between and many galleries just don't have the facilities for contemporary artists. As an artist you will paint anyway, but you have to be persistent. My main piece of advice to anyone starting out would be to join a studio, it's so important. It enables you to get support, maximise your skills and learn from others."
On the day I visited the gallery, a potential buyer drops in and expresses an interest in a selection of Angela's pieces. She's thrilled but also, surprisingly, seems somewhat saddened. Of course, she opened the gallery as an outlet to exhibit and sell her work, but it is clear that she has an emotional attachment to each of the paintings. She tells me about one of her pieces, 'Jazz Band'. "I loved that piece. It was inspired by an amazing, enigmatic jazz band that we saw playing in a restaurant in China Town, Manchester. I was so sad when it went but pleased too because I knew it went to someone who would appreciate it. A good home."
A selection of Angela's work can be viewed between 11am and 5pm, Monday to Saturday, at Ascot Studios. With work ranging in price from £250 , the current exhibition of her work represents an exciting opportunity to invest in a unique piece of original British artwork. As Angela's reputation as the rising star of British art spreads, the time is surely coming for her to say goodbye to many more pieces from her Urban Landscapes collection.